Well since we got hacked I had all the documentation for the
Engine
build, rear suspension, etc but it is all gone. BLOWS!!!!
Anyway this ride is currently at my buddies garage as I had built it for him and we ride as much as possible! The
motor
((
Internal Combustion
Engine ? )) runs great-no issues with the cr500 rod kit, the NISSAN right side crank case bearing and the rebuilt trans and axles to date. I have installed all new safety harnesses, front tires with a set of STOCK OEM rims all the way around,hood, many new and rebuilt items on this unit!!!
Plastics are all used but in great shape, this is a rider for sure!!
UPDATE ON THE HISTORY OF THE REBUILD
Well after close inspection the front master was leaking fluid so I rebuilt it using an OEM kit I had here.
When I pulled the Engine notice anything in the picture missing?
Attachment:
IMG00297-20110424-0845.jpg [ 54.95 KiB | Viewed 2434 times ]
As usual both rear axles needed to be serviced as per Hosers tech pages:
http://pilotodyssey.com/800reasons.htm
" .".." ."..
so off we went and boy were these son of bitches stuck good. At that time I had not fabbed a tool for pulling the splines out so I went to my friends shop and used his puller set to remove both side out of the trans:
Attachment:
IMG00347-20110514-1044.jpg [ 74.97 KiB | Viewed 2434 times ]
This tool works perfectly on these stubs-heres another pic:
Attachment: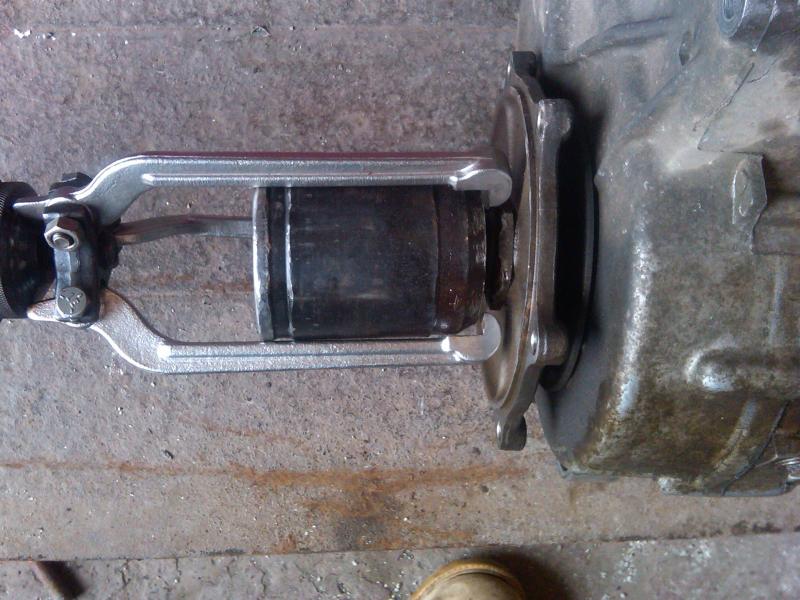 IMG00348-20110514-1044.jpg [ 78.79 KiB | Viewed 2434 times ]
As some may remember I had examined prior to removal and noticed the driver's side stub looked off-more to come.