adnoh wrote:
No I can not at this time as there is production. When I talked to there engineer about the stock numbers he said no way with out it taking set and it was way over stressed. He also told me the max safe poundage was 118lbs. The stress was at 90% of the material strength. That is why I changed the configuration. After ruining several sets of numbers and discussion on the application we came up with what I ordered. Ever spring calculator I used came up with the same thing. I do wonder why BAZ's new spring measured less than 26.9 or 27 mm.

The only thing that comes to mind is the material. Maybe lee can way in on that. I check my springs installed length several time and came up with the 20.95 mm or 21 mm with the parts I had in the clutch assembly. I do have all new plates on there way and I then can measure the new parts and compare to the old ones. I will play with the number again and see.

There has to be an answer. The numbers do not lie. Maybe some on else can measure up there in order to make sense of it all and call around and ask.

I know I will use the new spring in mine and see what happens. Like I stated in the beginning I will measure each spring and monitor it as well.

If you downloaded my work sheet, change the installed length to 20. It comes up to 154 lbs
The spring I had made can go up to 167 pounds at .230 travle or installed height of 19.558 mm. Granted this is at solid and not good. The big question is the stress on the at 20 mm installed height. I will need to calculate it and verify it with the mfg. I bet it will be around 40 to 50 %.

Back to square 1 for those wanting springs.

Andoh.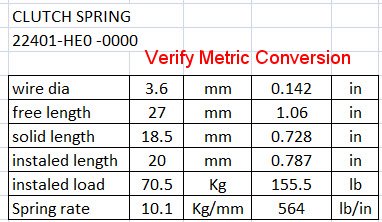 I guess I am confused if you can get 154 lbs at 20mm and the numbers Lee provided said design was 155 lbs whats the problem, then adding a shim takes them to 167lbs sounds like a place to start for the high HP machines.
I havent seen any problems on my 440 Pilot (guessing 70 hp) all I have ever changed was the factory frictions (once and old ones were still with in spec) reused all the rest of the parts, its had plenty of abuse and countless whoops, bumps and jumps at
WOT
(Wide Open Throttle).
I think where guys will have a problem will be when the clutches start to slip because of too much wear and HP being applied like any other clutch once they slip they die really quick, dark oil will be the first sign, that's where the shim or stronger springs would come into play, I change my trans oil after every ride trip where I use 10 gallons of gas or more, also use to change my balancer oil too on the Honda Engine, been using Mobil1 15-50W for years, I cant see any reason why not to recommend it to others, same oil I use in all my ATV gear boxes and use in my 1999 400EX since new.