adnoh wrote:
I would look and see if your pre load can be adjusted before messing with any thing. The top of the shock have a collar and snap ring which you can most likely move up as long as you do not have any free space on the springs. Also look to see how many transitions spacers are in the spring package. you may be able to play with this and soften up the front with a shorter stack depending upon rate of the top spring in your dual rate set up.

You would also want to make sure with 11" travel your frame does not bottom out at full compression. Let all you air out of the front and rear tires with the springs removed from the shocks. If it bottoms out before travel bottoms out your be in for one heck of a ride. The last thing you would want is the front to dig in on a g-out at speed, one of two thing will happen ,you will either blow it out or end up on your back side.

This is one reason with long travel one runs so much sag. Other wise the front end is way up in the air. Another item to consider is terrain, a higher center of gravity will help clear obstructions in your path with out you rear puckering up.

Either way it still looks cool. Thanks for sharing
Thank you for the info and your reply. I did as you said and adjusted the snap ring just before the free space occurred. This did lower the front end quite a bit. Now, with just the weight of the buggy it droops 3 inches, and drops another 1.5 inches with me sitting in the buggy. 4.5 inches total. Is that enough sag/droop?
With the suspension at full droop and with the tires inflated, I have 15 inches between the ground and the sub frame. I thought that would have been enough to not bottom out?!? Is it possible to limit the shock if needed?
There were 3 transitions spacers are in the spring package.
Attachment: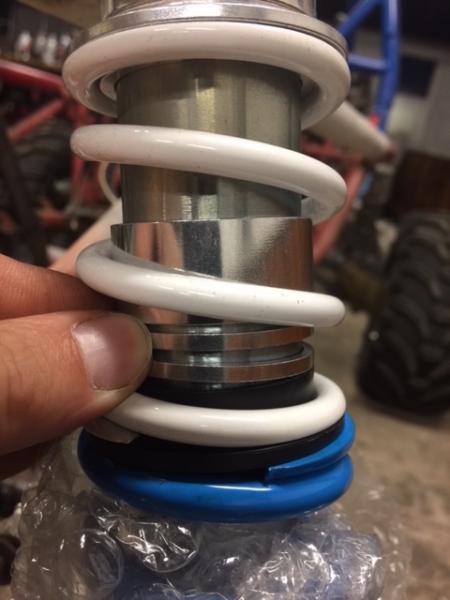 shock.jpg [ 31.58 KiB | Viewed 960 times ]