This picture was sent to me with this note attached
"I found this old prototype picture of a Honda snowmobile while surfing on
the net one day several months ago. The similarities to the Odyssey are, in
my opinion to great to be just a coincidence. I thought it would look good
on your web page."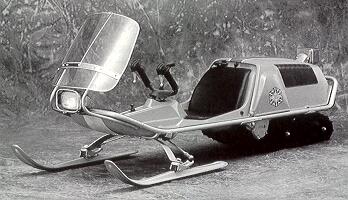 Could this be true, I have heard the story many times that
 Honda started to build a snowmobile and decided to be different and put wheels on it
and then the FL250 Odyssey was born.

(Update 10-2-99)

Below Is what SNUE sent me Via email
Hoser,

Yes, you have found one of the FL-250's "parents".  The other parent is the 
ATC 90 shown on your webpage, originally known as the US 90.  The UL-175 was 
at least the second snowmobile attempt by Honda.  The first one in the early 
70s was a front-engined, 750cc four cylinder, 4 stroke from their street 
bike.  Lots of power, but so heavy it sank in the snow.  So, they did a 180 
and designed a very lightweight, quick-handling, sport snowmobile. 

 

The Whitefox was a rear-engined, 175cc single cylinder, 2 stroke.  The engine 
was shrouded, fan-cooled and mounted horizontally with the cylinder facing 
the rear.  The intake port was on the top side with the carb facing the 
front, and the exhaust port on the bottom side with the muffler at the rear.  
It used centrifugal clutches and a gearbox much like the FL-250 but with 
double tracks to drive. 



The body consisted of a plastic seat/ foot pan and a 1-piece louvered engine 
cover.  The headlight was mounted on the front frame rail (I used one to 
mount on the roll bar of my first FL-250, before they came that way) and the 
taillight was off an XL-250.  The headlight switch was on top of the light, 
not real handy unless you could turn it on with your feet!  The body color 
was a mixture of orange, silver and black.  The controls were very FL-like, 
with a brake on one side and throttle on the other side of the steering 
handles.



I guess the snowmobile market in '73/'74 wasn't strong enough to justify full 
production, so the UL-175 just kind of died until it was resurrected for the 
dirt a few years later.  Some of the UL-175 parts remained in Honda stock 
until the early '90s.

Hope this fills in some info for you,

SNUE




If you have any information drop me a email pilot400@mchsi.com